Sermon and Worship Resources
23rd Sunday after Pentecost
Sermon and Worship Resources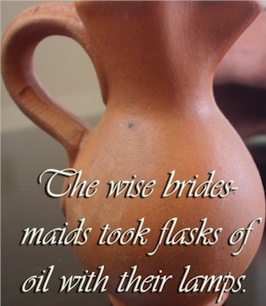 An Autumn Prayer
Dear God, the world is aflame with your glory and the trees sing out your praise. Let the fires of your Holy Spirit, burn the self satisfaction and pretense from our souls. Let it set us on fire with the joy of serving others in Your Name. Let it dance among us gathered here as the falling leaves dance to your glory on the hillside. Give to us new hearts that your song may be sung in the face of grief and fear, in spite of sickness and loneliness, and in the knowledge that wherever we go, you are there before us holding those we would serve in the arms of your gracious love. Teach us to love as you love, through Jesus our savior and guide. Amen
Sermons:
Children's Messages:
---
Sermon Excerpt:

Biblical Hope
based on Matthew 25:1-13, 1 Thessalonians 4:13-18, Amos 5:18-24
Rev. Karen A. Goltz
When I read through today's lectionary texts, all I could think was, 'Wow! How depressing!' The reading from Amos talks about God ignoring the songs and sacrifices dedicated to him in worship, and says that the Day of the Lord is darkness, not light, and gloom with no brightness in it. The reading from 1st Thessalonians talks about dead people and whether or not they'll be able to participate in the Day of the Lord, and the Gospel reading seems to issue a stern warning about being constantly prepared. It seems like it's saying you're out of luck if you're not completely ready at that unexpected time.
. . . Our culture and our dictionaries understand hope as a feeling that what we want to happen will happen. Our plans for our families. Our careers. Our stocks. Our retirement plans. But what would happen if we put our hope and our trust in God, rather than in the things and the people that God created?
And the Gospel? The Gospel lesson is a word of encouragement. God doesn't go by our timetables, and we will encounter frustrations. We'll have our times when we're caught up in the worries of this world and lose sight of the true source of our hope. But even though we don't know the day or the hour, the fact is that the bridegroom will come. And if we forgot extra oil for our lamps? It occurs to me that ten people don't need ten separate lamps, if they stay together. I wonder if the sin of the foolish bridesmaids wasn't that they forgot oil, but that they stopped watching for the bridegroom and instead gave their attention to the worries of this world. Their hope wasn't in the coming of the bridegroom; their hope was in having enough oil. Whenever we celebrate a baptism, the newly baptized is told to let their light so shine before others that they may see their good works and glorify their Father in heaven. Others who at any given moment do not have oil in their own lamps can be illuminated by the lights of the baptized, and encouraged in their own faith to fill their own lamps with oil. That is witness, and we are witnessing to the confidence that we are guaranteed participation in the completion of God's saving act by all that God has done in the past.
.....Subscribers: click here for the full sermon manuscript.
What is a subscription? Click here to find out.