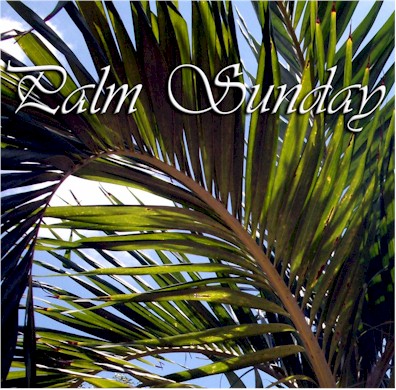 Prayer for a Walk in Christ's Passion.
Almighty and ever-living God,
in your tender love for the
human race you sent your Son
our Savior Jesus Christ to take
upon him our nature,
and to suffer death upon the cross,
giving us the example of his great humility: Mercifully grant that we may walk in the way
of his suffering, and also share in his resurrection; through Jesus Christ our Lord, who lives and reigns with you and the Holy Spirit, one God, for ever and ever. Amen.
Children's Sermons:
Sermons:
Everyone Loves a Parade, Mark 15:1-39, Mark 11:1-11
A Sermon in Two Parts by Randy L Quinn


Listen, Hear, Speak, Isaiah 50:4-9a
Rev. Randy L Quinn


Palm and Passion, Mark 11:1-11 (also chpts. 14-15)
by Rev. Thomas Hall


Splendid Sorrow, by Rev. Thomas Hall


God Took Our Shame, by Rev. Thomas Hall


Open Wide the Gates, Mark 11:1-11, by Leslie Depenbrock


Time to Take Out the Trash, Philippians 2:1-11, by RevBill in GA


Doing the works that Jesus has done, Mark 11:1-11, by HW in HI
_________________________________________________________________

Sermon Excerpt

Why did the cheering stop?
based on Mark 11:1-11
by John Nadasi

Some years ago a book was written entitled When The Cheering Stopped. It was the story of President Woodrow Wilson and the events leading up to and following WWI.

When that war was over, Wilson was an international hero. There was a great spirit of optimism abroad, and people actually believed that the last war had been fought and the world had been made safe for democracy.

On his first visit to Paris after the war Wilson was greeted by cheering mobs. He was actually more popular than their own heroes.

The same thing was true in England and Italy. In a Vienna hospital a Red Cross worker had to tell the children that there would be no Christmas presents because of the war and the hard times. The children didn't believe her.

They said that President Wilson was coming and they knew that everything would be alright.

The cheering lasted about a year. Then it gradually began to stop. It turned out that the political leaders in Europe were more concerned with their own agendas than they were a lasting peace.

At home, Woodrow Wilson ran into opposition in the United States Senate and his League of Nations was not ratified. Under the strain of it all the President's health began to break.

In the next election his party was defeated. So it was that Woodrow Wilson, a man who barely a year or two earlier had been heralded as the new world Messiah, came to the end of his days a broken and defeated man. It's a sad story, but one that is not altogether unfamiliar. The ultimate reward for someone who tires to translate ideals into reality is apt to be frustration and defeat. There are some exceptions, of course, but not too many.

This of course bring us to the story of Jesus; A man would was murdered for trying to bring his ideals into reality.

. . .

Subscribers: click here to see all resources

______________________________________________________

Children's Message Excerpt

No Small Jobs in God's Eyes
kids' talk based on Mark 11:1-11
by Rev. Randy L Quinn

Did you like waving the Palm Branches this morning as we sang? (They probably did.) Why do you suppose we did that? It was to remember the way people welcomed Jesus into Jerusalem. It was like a one person parade that everyone came to watch and to wave to as he came by.

Do you think it would have been fun to be there the day Jesus came into Jerusalem, riding on his donkey?

Would it be more fun to be one of the disciples who probably walked along with him as the crowd cheered? It would be like being in a parade with him, wouldn't it? Everyone would be watching and cheering and we would probably feel pretty good about being there that day.

But I don't know if you were listening when we read the story. How many of you heard what Jesus told two of his disciples to do before the "parade" began? He didn't tell them to follow him in the parade and he didn't tell anyone to wave palm branches. They thought of that on their own.

Does anyone remember?

He told them to go and get a donkey (Mk. 11:2). That probably wasn't very exciting, was it? But it was important....

DPS Subscribers: click here to see all resources

________

Click here to subscribe now and gain instant access to these resources plus an ENTIRE YEAR of weekly resources for only 39.95!