Prayer Affirming the Word of God Among Us

Search the Scriptures, as Christ told us in the gospels.
We find him born in our midst.
In truth he has appeared in the world.
We find him born in our midst.

O Lord, in Christ you have given us your Word
for a light to shine upon our path;
grant us so to meditate on that Word,
and to follow its teaching,
that we may find in it the light that shines brighter and brighter
until the day of Christ's return. Amen.
Sermons
Being Read By The Word, Mark 10:17-31, Hebrews 4:12-16
by Rev. Thomas Hall

When The Usual Wisdom Doesn't Work, a sermon based on Job
by Rev. Thomas Hall

Security Without Money, Mark 10: 17-31, Jim from B.C.
God Who Gave Everything, Mark 10:17-31, Jim Chipps in VA
The Way of Christ, Mark 10:17-31, Greg In South Africa
Willingly Give Up Everything! Mark: 10.17-31, Reuben Condie
I am them, Mark 10:17-31, LukeW in Oz
Children's Messages

Sermon Excerpt
Sharper than a Two-Edged Sword
based on Hebrews 4:12-13 and other Scripture passages
by Rev. Frank Schaefer
This morning we hear the author of Hebrews use a very unusual, but interesting analogy, i.e. s/he compares the Word of God to a two-edged sword.

The most famous two-edged swords of antiquity are the Greek Xiphos and Roman Gladius. They were relatively light double-edged swords that contributed to the successes in warfare—one of the reasons why the Greek and Roman Empires established themselves in such a powerful way. The Gladius sword is probably what the author of Hebrews had in mind. It was a standard issue weapon for all Roman soldiers. It was a little shorter and lighter and thus more effective than its predecessor, the Xiphos (which was also a double-edged sword).

The advantage of the double-edge, of course, is that no matter which way you strike, you can attack the enemy on the battlefield.
The truth of the "sword message" is that the gospel, while it is the good news of God's grace and salvation, also makes very hard demands on us. These demands by Jesus remind us that there is a cost to discipleship, as Dietrich Bonhoeffer (1) so aptly phrased. What is the cost of discipleship? Truthfully, these are things we all struggle with

Handout download in Word Format PDF Format or download the PowerPoint Presentation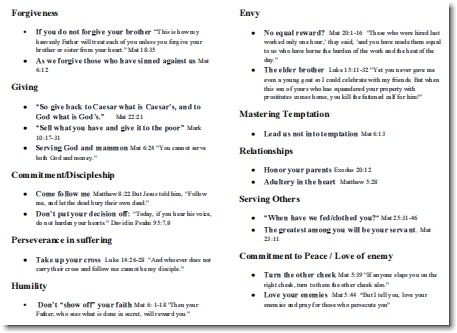 _________________________________________
Not a subscriber yet? Click here to subscribe now and gain instant access to these resources plus an ENTIRE YEAR of weekly resources for only 39.95!!