Sermon and Worship Resources

Christ the King Sunday
Christ-the-King Sunday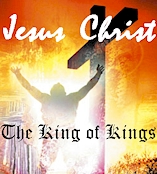 FREE
PowerPoint Children's Sermon


click here
Christ the King Sunday Prayer
(A. Campbell Frazier, England, 20th Century, ALT):
Almighty God, who gave your Son Jesus Christ a realm,
where all peoples, nations, and languages should serve him;
make us loyal followers of our living Lord,
that we may always hear his word
follow his teachings, and live in his Spirit;
And hasten the day when every knee shall bow
and every tongue confess that he is Lord
to your eternal glory. Amen.

DPS Subscribers: click here to access all resources
Sermons:
Children's Messages:

Christ-the-King Sunday


FREE PowerPoint Children's Sermon

click here
---
Sermon Excerpt:
The Cobbler and His Guest
Matthew 25:31-46
by HW in HI
We come today to the end of that season after Pentecost, and the end of the church year. We have come full circle. The church year begins with Advent, when we await the coming of the Messiah, both the infant Jesus, and the return of Christ. We move through the year to Christmastide and Epiphany, the seasons of Lent and Easter to Pentecost and the long season following Pentecost. And today we come to an end: we celebrate Christ the King. We celebrate Christ the King and we deck the altar with white. Because in the end, the babe born to Mary, raised by a simple carpenter in middle east 2,000 years ago – in the end, he reigned. And he continues to reign.
The feast of Christ the King is not particularly old. It was established by Pope Pius XI in 1925, and rapidly accepted by many Protestant churches.
The scripture chosen to commemorate Christ the King is Matthew 25: 31-46. Jesus calls us to feed the hungry, clothe the naked, visit the sick and imprisoned and welcome the stranger. It seems appropriate that at this time of Thanksgiving we find ourselves called to remember our vows to Christ and the needs of the world. We find ourselves called to give thanks for our gifts, and to share those gifts.
The Gospel message suggests: God will judge us according to our response to human need. Some Christians ask people to stand up and make a decision for Christ. This is a good thing to do, but it does not go far enough....

DPS Subscribers: click here to access all resources
What is a subscription? Click here to find out.