St. Patrick of Ireland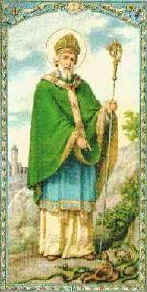 Patron Saint of Ireland
Memorial Day
17 March
Biographic bits:
St. Patrick was born at Kilpatrick, near Dumbarton, in Scotland in AD 387.
At age 16, he was sold into slavery by a group of Irish marauders that raided his village and took him back to Ireland. During his captivity, he came closer to God.
He escaped from slavery after six years and went to Gaul where he studied in the monastery under St. Germain, bishop of Auxerre for a period of twelve years.

His wishes were to return to Ireland, to convert the native pagans to Christianity. But his superiors instead appointed St. Palladius. But two years later, Palladius transferred to Scotland. Patrick, having adopted that Christian name earlier, was then appointed as second bishop to Ireland.
His mission in Ireland lasted for thirty years. After that time, Patrick retired to County Down. He died on March 17 in AD 461. That day has been commemorated as St. Patrick's Day ever since.

St. Patrick's Day / Easter Song: Lord of the Dance
download/listen to song on iTunes

Irish Folklore surrounding St. Patrick's Day:

Some of this lore includes the belief that Patrick raised people from the dead. He also is said to have given a sermon from a hilltop that drove all the snakes from Ireland. Of course, no snakes were ever native to Ireland, and some people think this is a metaphor for the conversion of the pagans. Though originally a Catholic holy day, St. Patrick's Day has evolved into more of a secular holiday. One traditional icon of the day is the shamrock. And this stems from a more bona fide Irish tale that tells how Patrick used the three-leafed shamrock to explain the Trinity. He used it in his sermons to represent how the Father, the Son, and the Holy Spirit could all exist as separate elements of the same entity. His followers adopted the custom of wearing a shamrock on his feast day.
St. Patrick...
He was not Irish. He was a British Celt.
He was not necessarily the first missionary to Ireland.
The only documents about Patrick are his Confession and a letter he wrote to Coroticus.
There were never snakes---or other reptiles---in Ireland for Patrick to chase out.

Free Celtic worship Resources with sermon, litanies, prayers and more: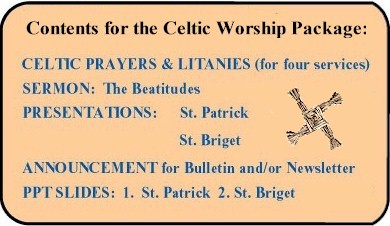 Worship Resources by St. Patrick:
Prayer of St. Patrick:
I take for my sureties:
The power of God to guide me,
The might of God to uphold me,
The wisdom of God to teach me,
The eye of God to watch over me,
The ear of God to hear me,
The word of God to give me speech,
The hand of God to protect me,
The way of God to go before me,
The shield of God to shelter me....
Christ be with me, Christ before me,
Christ behind me, Christ within me,
Christ beneath me, Christ above me,
Christ at my right, Christ at my left,
Christ in the heart of every man who thinks of me,
Christ in the mouth of every man who speaks to me,
Christ in every eye that sees me,
Christ in every ear that hears me. Amen.

Useful Links:

CATHOLIC ENCYCLOPEDIA: St. Patrick
An article from the Catholic Encyclopedia
The Confession of St. Patrick
One of two of St. Patrick's surviving writings (translated from the Latin)