A Day to Honor the Original Valentines--martyrs with a message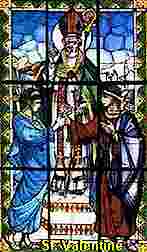 As you know, there is more to Valentine's Day than giving candy, cards, and flowers to your sweetheart.

The legend of St. Valentine stems from real-life martyrs from the Roman Empire known as Valentines. It is unsure who was the St. Valentine; there are at least two candidates: One of them is believed to have been a Roman priest and physician killed in the third century, during the persecutions of the Emperor Claudius II Gothicus. After his death this Valentine was apparently buried in the Roman road Via Flaminia. Pope Julius I is said to have later built a basilica above his grave. A second St. Valentine candidate believed to be a bishop of Teni who was also executed in Rome.

These men's status comes from legends of harboring Christians from persecution, curing the blindness of a cell keeper's daughter, and conducting marriages while they were forbidden during times of war. It is perhaps this last repute that made St. Valentine the patron saint of lovers.
Resources: