Sermon and Worship Resources
Fourth Sunday after Epiphany (B)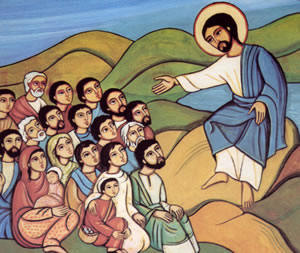 "He taught them as one having authority..."


Call to Worship:
L: The God who created us, is calling us
P: Let us listen to God's voice
L: The God who loves us, wants to prepare us for his Kingdom
P: Let us enter God's gates with open hearts and open minds
L: The God who loves the Church is asking us to be one.
P: Let us stand together in unity and love to the praise of our God!
---

Sermons:
More Important Than Being Right, 1 Cor. 8:1-13 & 1 Cor. 13
by Rev. Cindy Weber

A New Teaching, Mark 1:21-28, by Rev. Thomas Hall

Theology of Food and Healing, Mark 1:21-28 and 1 Cor. 8:1-13
by Rev. Hollis Wright (HW in HI)
Children's sermons:

---
Sermon Excerpt:


What's the Fruit of Spiritual Growth?
1 Corinthians 8:1-13 & 13:
by Rev. Frank Schaefer
Have you ever insisted on being right on something and then it turned out that you were wrong after all? I think we all have been in a situation like that. That can be very embarrassing.
Knowledge is a tricky thing. It often depends on perspective, and different people have different angles from which they look at things. Today, I often use qualifiers such as "I think" or "from my perspective" or "I'm not 100 percent sure, but . . ."
The apostle Paul, author of the passage we read earlier, stated that realization a little later in his letter. In Romans 13:12 he wrote: "Now we see but a poor reflection as in a mirror; then we shall see face to face." Socrates said it like this: "I know that I don't know."
What Paul is teaching us here is that, as we spiritually grow, we should become aware that love is what it's all about in the end—not faith, not hope, but love. Or in Paul's own words: "And now these three remain: faith, hope and love. But the greatest of these is love." (13:22)
And here we have it: spiritual growth is for strengthening our faith and our hope. But that's not the main result: growing in love is the main fruit of spiritual growth, above everything else; because love is what's going to remain in the end.
Today's text provides a case study of this lesson.
Case Study: Is eating meat dedicated to idols ok?
Place: the Corinthian church;
Issue: controversy over eating meat that was sacrificed to false gods. . .

DPS Subscribers: click here to download this sermon and all other resources
What is a subscription? Click here to find out.