Sermon Excerpt:
Law and Faith—Two Guardrails to Guide us!
Matthew 5: 17-20
Rev. Frank Schaefer
I think all of us here today are aware that Christianity is not exactly unified. The Christian World is subdivided into Roman Catholics, Orthodox, and Protestant denominations, with the Protestant faiths consisting of many sub-denominations. And at the heart of the divisions are theological arguments.
There was recently a debate between a Roman Catholic and a Presbyterian church over whether Dogs go to Heaven. What was special about this debate was that this argument was carried out on their church marquees. These two churches are facing each other across a busy street. Someone photographed the marquees as the argument unfolded.
[show PowerPoint Slides 1-9] [click here to download the Slide Presentation]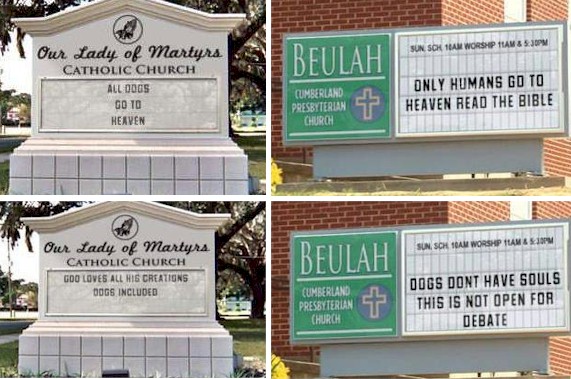 Whether its a discussion on whether dogs go to heaven, on baptism, or on Scriptural authority, we do argue our theological differences.
Today's Scripture really touches on an ancient Christian debate that pits works-righteousness against faith-righteousness. Apparently, even in the early church Faith and Law represented two paths to salvation.
. . .
Subscribers:
click here for full manuscript and all other sermons and resources

How to become a subscriber (US $ 39.95 / year)?